Since April 2011, the Alpha Omega Children Foundation have helped the orphans, disadvantaged children and children living with disabilities in Liberia by providing:
We have proved 125 children in Liberia with safe housing, food, safe drinking water, and proper education to be become useful to themselves, society and to Liberia as a whole.
A) Emotional Support-Teach the children at the Mission of Hope orphanage relational skills they need to help them understand and express their emotions in ways that promote safe and rewarding relationships.
B) Housing-Provide orphans, disadvantaged children and living with disabilities with a safe and loving environment, a place to call home.
C)) Farming – Support local farming efforts as a way to supple a consistent food source for the children.
D) Education Support-Provide the Children at the orphanage with necessary school supplies and transportation to/from school
E) Developmental Programs-Trained the children with necessary skills needed to enter the workforce and prepare the children for challenges faced as adults in their region. The Alpha Omega Children's Foundation has also had the opportunity to work with Vanessa who is 19 years old and disabled with Spinal Polio due to Lack of Vaccination as a baby. She has Paralysis of the arms and legs and uses crutches to walk.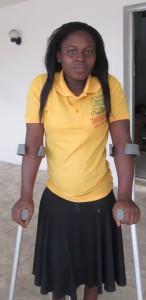 She is currently in need of her school fees in view of the fact that she goes to private school, transportation since she usually takes bike as a means of transportation which is very dangerous due to her condition, Clothing, food supplies and Personal Care taker.
We as an organization plan on building 7 homes in Liberia consisting of 4 bed rooms, 2 baths, kitchen, living space, Study area, mini Clinic, Chapel, playground and Library by 2016.
The facility will house 56 children during the first year of opening. This number will increase based on the resources available.