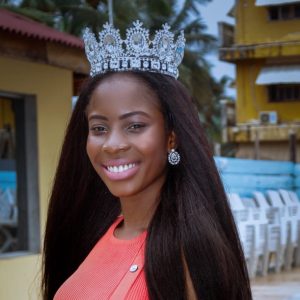 Amb Gwendalyn Ashley Tucker is a Liberian who was born and raised in Monrovia, Liberia. She started her primary education at the Builder's Foundation Int'l School and The Conquerors Christian Foundation Academy. She later obtained her high school diploma from the Monrovia College and is currently a student at the United Methodists University, reading Management major and Accounting minor. The young Ambassador have been awarded series of certificates during her high school journey.
Amb Gwendalyn Ashley Tucker participated in the first ever Liberian's Next Supermodel Competition held on July 28, 2018 in Monrovia, Liberia by the sister organization of the Alpha Omega Children's Foundation (Liberian's Next Supermodel organization) where she was crowned as the Winner and named as the Ambassador of the Alpha Omega Children's Foundation.
Amb Tucker is also a fashion model. She have walked for several fashion shows in Liberia and was opportune to travel to Accra, Ghana as the only Liberian model to walk on the gracious runway of Accra Fashion Week sponsored by the Liberian's Next Supermodel Organization.
One of her responsibility as the Ambassador of the Alpha Omega Children's Foundation is to raise awareness of the needs to assist Orphans and disable children of Liberia by raising funds for the first ever AOCF village to be build in Liberia.